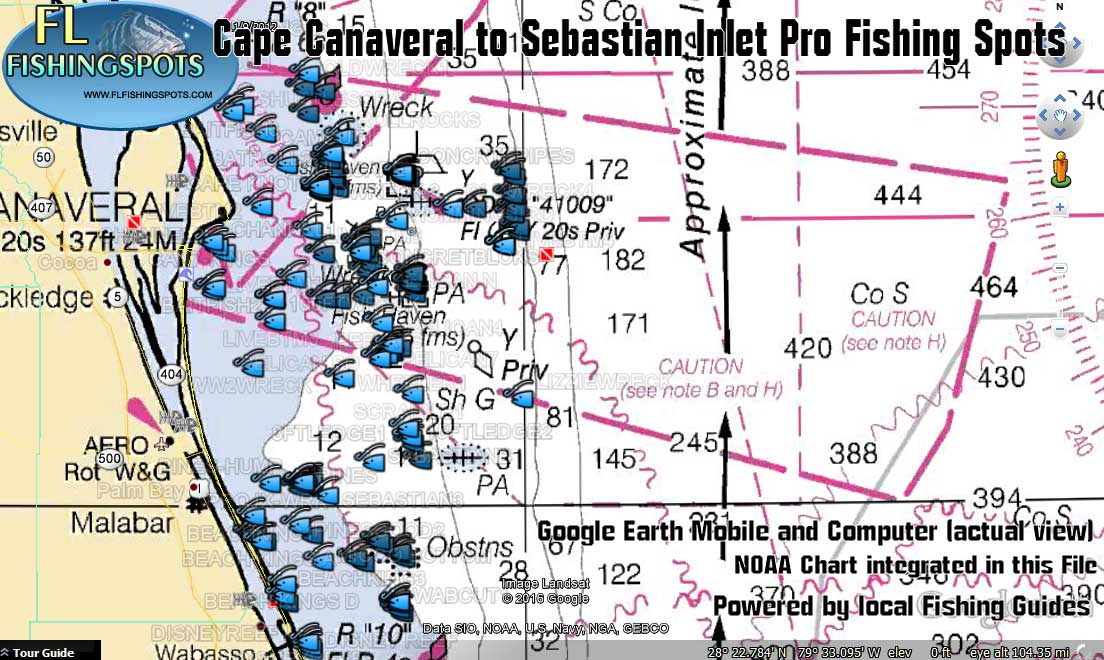 Cape Canaveral Fishing and a little about chumming for Offshore Fish – – I used to think chumming was a method of sitting down with a five gallon bucket of dead fish and tossing them over the side of the boat periodically. In fact some twenty fishing seasons ago, I was doing just that. Drifting in the middle of Amelia Island, Florida's St. Mary's inlet, we were tossing dead fish out into the water in hopes Of chumming up a big tarpon, shark, cobia and even a smoker kingfish.
A few days ago, I remember hearing a fishermen talk about several big tarpon that he and his fishing buddies had chummed up in the channel. They had even caught a big kingfish and a small cobia.
But right now, I did not even have the slightest idea of what I was doing! I know we have all had that feeling one time or another during a fishing trip. Somewhere in your brain, someone is telling you that you are doing it entirely wrong.
Needless to say, my fishing buddies and myself returned to the dock without a single strike. But my interests in chum fishing did not stop there. I began to ask more and more questions about chumming and before long, I returned to the St. Mary's shipping channel and began to chum with a whole new format.
This time, we anchored up our boat and began to chum into a deep hole where we had marked fish with our Humminbird fish finder. Now, our baited hooks were not only being fished where good numbers of fish were holding, but we were also chumming directly into the fishy waters. And at the end of our fishing day, we did not return to the dock without a fish story. We had hooked into ten tarpon before the day was out and had landed a 32 lb. kingfish while fishing a live mullet right on the surface.
Since then, I have been totally hooked with chum fishing. More importantly, I have found numerous techniques in chumming up saltwater game fish, particularly kingfish. And like many die hard king mackerel fishermen, we have found several fishing tactics that will attract kingfish to our baited hooks. Some of these fishing tactics don't even include tossing dead or ground fish out into the ocean.
Today, most king mackerel fishermen will use a ten to twelve foot cast net and fill a couple of five gallon buckets full of menhaden. Next the menhaden are ground up with a meat grinder. The meat grinder is mounted on top of a rod holder and a mesh bag is then attached to the discharge end of the meat grinder Once the mesh bag is filled with ground chum, the bag of chum is attached to a gunnel cleat. Now as the ocean currents, or the wave action of the ocean pushes saltwater through the chum bag, the ground chum begins to seep out from the bag.
Within minutes of using your ground chum, small fish scales, fish oil and small pieces of fish begin to set up a chum slick that will entice kingfish from near and far to your barbed kingfish baits.
Now the king mackerel fishermen can direct their efforts in catching kingfish instead of sitting down by a bucket of fish and tossing them over the side of the boat all day long. In fact the more serious tournament king mackerel fishermen will take a day off from king mackerel fishing and fill up a couple of large coolers with menhaden, while tossing a big pogy net. Once they return to the dock, the menhaden are ground up with a meat grinder. To speed up the process, an electric motor is fitted to the meat grinder and a larger #13 meat grinder is used.
The ground chum is then deposited into one gallon freezer bags and frozen. When a tournament day arrives, six to ten bags of frozen chum are taken from the freezer and will supply the kingfish team with a full day of ground chum.
Menhaden oil is also used to chum up kingfish and can be highly effective. One of the more popular techniques for creating a chum slick while using menhaden oil, is filling up an I-V bag with menhaden oil and then attaching the bag to one of your gunnel cleats. The valve on the I-V bag is then set so that the menhaden oil drips slowly into the ocean.
The slow dripping of the pogy oil into the ocean creates a great chum slick , right on the surface of the ocean.
King mackerel fishermen have also found many other uses for chumming up kingfish with menhaden oil. Keeping in mind that allowing the oil to drip slowly into the ocean, will chum up the kingfish that are holding in the upper half of the water column, Mixing menhaden oil with dry dog food or fish pellets, is a super way of attracting kingfish both down deep and close to the surface.
Once the menhaden oil is mixed in with the dry pellets and completely saturated, the chum is then deposited into a mesh bag . Make sure that the mesh is small, so that the chum seeps out slowly into the ocean. Now as the sea water passes through your chum bag, you will notice that the small saturated pieces of chum will begin to sink slowly into the depths of the ocean. Naturally, the pogy oil will stay close to the surface and create a chum slick right on the surface of the ocean.
Not only will this chumming tactic attract the smelling instincts of nearby kingfish, but it will also attract small bait fish to your chum slick. Soon, several bait fish will be swimming right behind your boat and in all depths of water, creating a live bait chum slick!
One of my favorite chumming tactics with menhaden oil, is simply filling up plastic spray bottle with menhaden oil, then upon our arrival to our favorite kingfish hole, I will spray the surface of the ocean with the fish oil. By using the stream setting on the spray bottle, we can spray a wide area of the oceans surface. This chums them up in a hurry!
Horse needles can also be used to inject menhaden oil into either live or dead bait fish. As the baits are fished, the oil seeps out slowly into the ocean.
Menhaden are also referred to as pogies and can be found in close to the beaches of the southeast and Gulf Coasts of the United States. Needless to say, their fish oil content is almost seventy five percent of their body weight, making menhaden a perfect fish to chum with.
Chum bombs are also highly effective in chumming up your favorite kingfish hole. Simply fill up a one gallon plastic milk carton with a mixture of dry dog food, masonry sand, or fish pellets. Then saturate with menhaden oil. Upon your arrival to your kingfish waters, simply poke several holes into the milk carton and drop the carton down to the bottom. The ocean currents will allow the chum mixture to seep slowly out into the ocean.
And if all else fails, you might just fill up a five gallon bucket full of menhaden, begin to cut them up slowly and then toss them slowly out into the ocean. This old and tried kingfish chumming tactic is still highly successful today.
There are actually two methods for cutting up chum. The first includes cutting up chum with a fillet knife. This is normally done from Florida's Ponce Inlet to the Carolina's, and with good reason. The water color is normally a little more stained in these waters and if you pplan on attracting fish you to your kingfish baits, you will need to chum hard. A large knife and a cutting board allows you to cut up good amounts of chum in a hurry.
However while cutting up chum in south Florida waters and on the Gulf Coast, the ocean waters are generally clear, so you may be more effective by cutting up chum slowly. Gene Turner perfected this technique by using a pair of scissors and slowly cutting bait fish up in to small pieces. Once a small, one to two inch chunk of fish is cut and tossed into the ocean, a second piece is not tossed into the ocean until the other piece disappears out of sight.
These are the basic fishing tactics for chumming with fish by-products. However there are a multitude of other fishing tactics that will attract kingfish to your barbed baits and in many instances, they don't include chuming with fish.
Jigging baitfish off from the front of your trolling boat is a great fishing tactic for attracting nearby kingfish.
One tactic that many kingfish teams employ, is leaving a couple of live baits out when a kingfish is hooked. The battle of the hooked kingfish often brings nearby kingfish up close to your boat for an inspection. They become aggressive as well and can be easily caught.
Attaching fish shape reflector tape on the bottom of your kingfish boat also attracts kingfish to your baits. They often mistake the reflector tape for a school of bait, then attack your kingfish baits.
Trimming your outboard engine up so that the propeller is cavitating, will also simulate a school of bait fish. You may also put out a live bait as soon as your kingfish boat comes off from plane. Nearby kingfish will normally come up to the disturbance that both your propeller and boat has just made.
Jigging bait fish off from the bow of your slow trolling kingfish boat is also a great tactic for attracting nearby kingfish to your barbed baits. Naturally the kingfish spot the struggling baits and come in for the feed.
So you can see, there are several tactics that can be used to attract kingfish to your baits. And often times, these chumming tactics will ignite their predator instincts, resulting in a explosive kingfish strike from kingfish that are normally pretty finicky in their feeding habits.
Source: Terry Lacoss
If you need a good Florida offshore fishing Map you have come to the right place.