Google Earth fishing maps – This file is emailed directly to you the same day of purchase. This included file (for any purchased fishing location) loads to your android Mobile Device with the Google Earth app and our suggested mobile GPS Apps. We reveal these apps after purchase. This mobile file is included with any purchase!
Many of our Customers now use their fishing spots with an Android device as an aid to locating fishing spots and fishing trip planning. Although this is considered a GPS file, it should only be used as an aid to locating your spots and allows you to view comments on the spots. Always us a marine GPS for true and accurate, safe navigation.
Note: All purchases from any of our websites, from any State comes with files for your boats GPS, Phone, Tablet and Computer. All files are conveniently emailed the same day of purchase! Copy and paste our GPS files to your own SD card. Or, you can have any fishing spots from this website loaded to SD Card for your GPS mailed right to your door, see options at checkout! Contact us with any questions
Click here if you're looking for IOS GPS Fishing App info
IMPORTANT NOTE – Nautical charts like those seen below are provided by NOAA map servers. Currently, the NOAA map servers are DOWN. We do not have further info on when the free NOAA map details will be back online, but should be this year. Also note that most GPS apps offer highly detailed nautical charts for free, or very very cheap.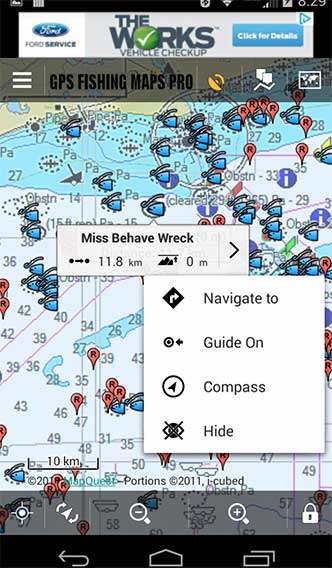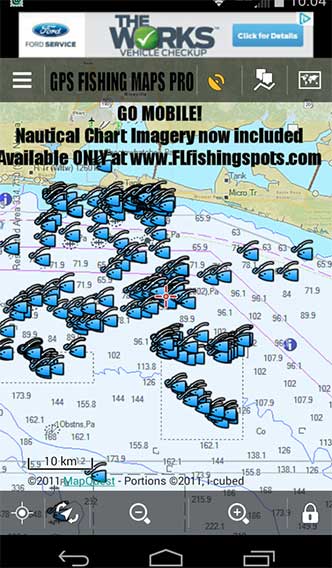 Some apps allow users to customize GPS screen views within the app that you would like to see as your GPS screen such as ETA, Speed, Course, Compass Bearing, etc. NOTE: Learning how to use any GPS app is your sole responsibility as we are not the designers of the app, we simply provide a fishing spots file. It should be mentioned again, we highly recommend the use of a marine GPS for accurate and safe navigation, there is no substitute.
Remember, this is a Google Earth file that works with several apps that will accept a Google Earth file. Remember, a mobile app is not a complete navigation solution to replace an onboard GPS, but will assist in finding your spots. Detailed charts are found on most marine GPS systems and are available in some apps as in app purchases for a very low price.