Upper Keys Deep Drop Fishing Spots
Key Largo Florida and Islamorada Florida are renowned for superb offshore fishing and awesome deep drop bottom fishing. Many fishermen are missing out, or don't know about the superb offshore deep drop fishing off Key Largo and Islamorada. In fact, the overall fishing is so good that Islamorada is the sport fishing capital of the world. And most will not disagree with that claim.
We provide 40 Deep drop fishing spots from Islamorada, Tavernier and Key Largo Florida. These deep drop fishing spots are found in 400 ft to 900 ft of water, which is highly dependable for deep water bottom fish in the upper Keys.
Florida Keys anglers head offshore to drift or troll the legendary 409 humps, Islamorada Humps or the Key Largo humps for Blackfin Tuna, Dolphin, Skip Jack Tuna and other pelagic fish. However, there is much more fishing to be done offshore, and that is the infamous Keys deep drop fishing for Tilefish, Black Belly Rosefish, Yellow edge Grouper, Barrelfish, Misty Grouper, Snowy Grouper and other deep water bottom species.
Passcode required – To purchase, you will need a special passcode to complete checkout, which we will provide via email. To get your passcode simply complete this form and your purchase passcode will be emailed to you. This is simply part of our internal quota system and nothing more.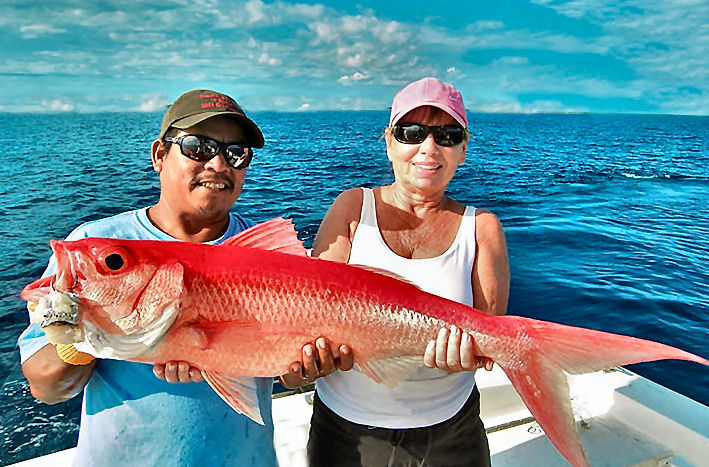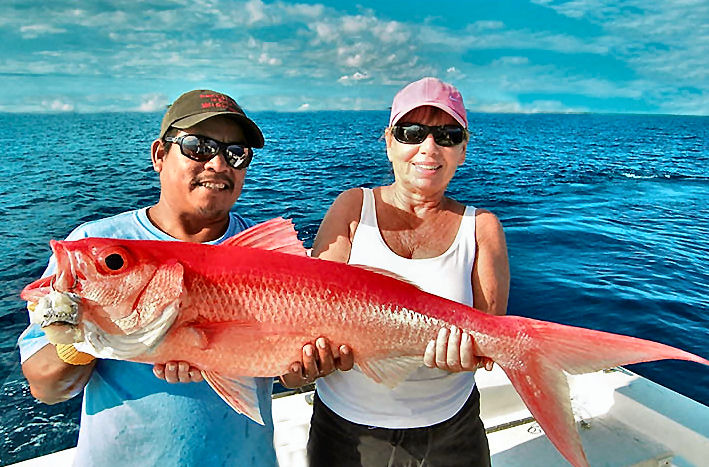 Florida Deep Drop Fishing Spots Rating

Deep Drop Fishing for all seasons!
No matter when you visit the upper Keys or other places along the chain of Florida Keys, you will find excellent fishing nearly year round as the gulf stream temperature regulates the ocean temperature within a few degrees all year round. This consistent and near perfect water temperature is a hot bed for all hundreds of fish species that find the warm climate just right to live and stay here most months of the year. Deep dwelling bottom fish can be caught every month of the year in this area in depths of 400 ft. to 900 ft. plus. These extreme depths offer excellent habitat for deep-water bottom fish such as black belly rosefish, golden and gray tilefish, Barrelfish, a variety of Groupers and more.
We also offer swordfish fishing spots for this area. We will link them here when they are updated for this season.
Fishing Spots for GPS and Mobile
Load any of our Fishing spots to your boats GPS, Mobile devices and Computer. Our included easy to use files work with your mobile and GPS devices with just a few clicks. Copy and paste our GPS files to your own blank SD card with ease for Garmin, Simrad, Raymarine, Lowrance, Humminbird and Furuno Touch.

Pre-loaded SD cards available – Have these spots loaded to a fishing spots SD card for your GPS model and mailed to you. See more about preloaded GPS SD cards here. Our files load all the fishing spots at once as shown in the map sample below. Map views and fishing spots samples shown on this site vary per GPS model or mobile device model. Feel free to contact us with any questions.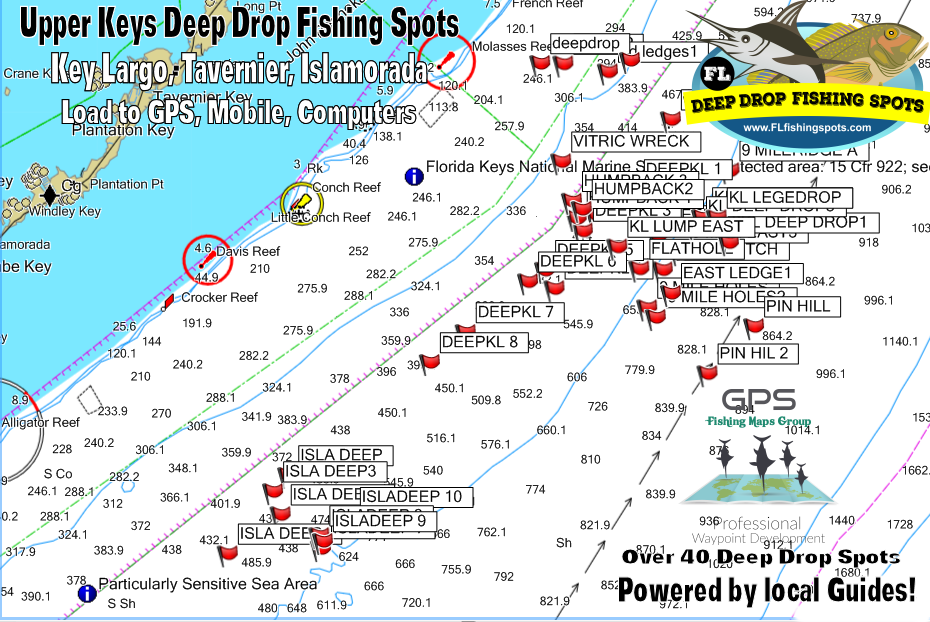 Upper Florida Keys Deep Drop Fishing Spots Only $129.99
As always, purchase with confidence from The Coastal Fishing Group! We're a 14 Year Verified Seller and Merchant with 100% Positive seller Feedback. Your fishing map files for your purchased area will be emailed in Google Earth, Android, iPhone, PDF Printable Coordinates and GPS Upload Files, all sent shortly after checkout. Thank you for your business and we look forward to serving you in the future. — Fish on!